Willy Worms Worm Castings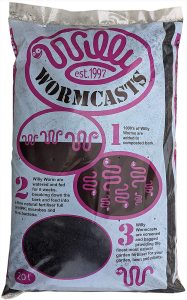 Let's Take A Look Inside...
For a cost-effective and organic way to improve your garden's growth, look no further than Willy Worms Worm Castings! These locally sourced worm castings are produced in Yorkshire, UK, and screened twice to ensure only the highest quality product is delivered to you. Promoting beneficial microbes and fungi, Willy Worms Worm Castings are a great way to promote healthy plants.
Willy Worms Worm Castings
Willy Worms Worm Castings are priced well, cost effective, and highly rated – not to mention that they come from a well known and established brand in the UK.
What's more, research shows that regular use of worm castings can help increase foliage, root growth speed, germination success, seedling growth and development, alongside the potential to help with resistance to diseases and pests – meaning you'll have healthier and stronger plants in the long run.
Willy Worms Worm Castings is the perfect organic fertilizer for your garden! Not only does this natural product help plants grow big and strong, but it's also great for improving soil health. Give your vegetables, annuals, perennials, shrubs and trees a boost with Willy Worms Worm Castings
Features
Microbes
Fungi
Live Bacteria
Nitrogen
Phosphates
Potash
This organic product can be used to feed and condition your soil, helping your plants thrive. Whether you're planting new seeds or tending to established shrubs and trees, Willy Worms Worm Castings will help you get the most out of your garden.
Knowledge Base
Gardeners know that ferns are
Knowledge Base
Gardening is a rewarding and
Knowledge Base
Do You Want To Sign Up To The What's This Plant Community?
*Currently in development – coming soon